Read these books for FREE while everyone else has to pay for them!
Blood on Their Hands
by Bob Brink
Genre: Suspense / Thriller
Little does attorney Hiram Garbuncle know the danger he's getting into when he reluctantly defends a man brutally beaten by two policemen during a traffic stop and charged with resisting arrest. Plot twists and turns take the reader on a suspense-filled roller coaster ride as the attorney's negligence causes a mistrial. He then discovers incriminating evidence against the cops, and his new challenge becomes how to keep himself and his client alive pending a new trial. Garbuncle is an alcoholic, and his courtroom remarks and outlandish attire startle the judge, whom the attorney brings to his side in arguing a legal conundrum. His miserly ways cause a tug of war with his burly apartment tenant, who ends up helping with the probe of the cops. But when the woman he falls in love with is caught up in the investigation, tragedy results.
$2.99 Read & Review Book
About the Author
FREE TODAY! Grab it here! 🤓
Morrow's Con – Opening Gambit
by Earl James
Genre: Suspense / Thriller
A character like no other…
People call him Morrow. They aren't sure if that's his first name or his last and they don't care. They call him when they're in trouble. They call him when conventional methods don't work. They call him when they need a solution that no one else can offer.
Morrow is a product of the streets. At an early age, he learned to anticipate what people would do given a few choices. He became a self-educated student of human nature and later in life, he became a con man. Morrow isn't tougher or more experienced than his opposition. He rarely wins a fight. He's conflicted and troubled by his past. He's just an average man who blends in and earns his living by out-planning and out-thinking his adversaries.
Now, he's about to launch his first-ever full-fledged con. He knows his objective, he's designed his plan, he's selected his team, and he knows he's ready to act. It's what he doesn't know that could be his downfall.
$3.99 Read & Review Book
About the Author
FREE TODAY! Grab it here! 🤓
The Mentor
by Rita Carla Francesca Monticelli
Genre: Suspense / Thriller
What if someone you love is a serial killer?
DCI Eric Shaw, leading a forensic team at Scotland Yard, together with DI Miriam Leroux from a Murder Investigation Team, is investigating the death of a known offender. Killed by two gunshots: one to his neck, execution style, but preceded by another to his groin, implying a more personal motive.
Shaw's attention at work is often distracted by a young forensic investigator, Adele Pennington, who is a beautiful woman over two decades his junior. However, his attraction to her is unreciprocated.
Meanwhile, unbeknownst to the London police, an anonymous blog describes the details of a very similar crime. The author of the blog signs herself as Mina, like one of the victims in a case Shaw investigated many years ago.
Twenty years ago Eric saved her.
Who will save him now?
Meet DCI Eric Shaw . . . and his pupil.
$4.99 Read & Review Book
About the Author
FREE TODAY! Grab it here! 🤓
Toran: Gateway to the Other Side
by Linda Andrews
Genre: Suspense / Thriller
Adrienne West lost her husband and son in a horrible car accident. Six months later, she sees her husband again but the son in his arms is older than the infant she lost.
Elias Branch sold his dream of a portal to a distant world to a reclusive billionaire. When Eli dares to open the gateway, his dead mother returns to this world.
In their search for answers, Adrienne and Eli will discover the nightmare invading our world. For the doorway has allowed other dearly departed people to creep in.
And the happy reunion will be short lived.
$4.99 Read & Review Book
About the Author
FREE TODAY! Grab it here! 🤓
Green with Envy
by Greg Enslen
Genre: Suspense / Thriller
Finding work as a private investigator, ex-cop Frank Harper settles into the small Ohio town of Cooper's Mill. Meanwhile, on the other side of the country, a young Hollywood starlet's career is on its last legs. Jessica Mills struggles with drugs and alcohol. But when a dangerous accident changes her life forever, she must pay her debt to society. An audacious plan keeps Jessica out of jail, for now, putting her on a collision course with a man obsessed with possessing her…no matter what the cost.
$7.99 Read & Review Book
Kiss and Kill in Texas
by Russ Hall
Genre: Suspense / Thriller
Al Quinn turns down a musician friend's request to stay at Al's home, which is now filled with his recent bride, Fergie, his brother's, wife and child, and a dog. Al's refusal has consequences that lead to the musician being murdered.
The trail to make things right takes Al and his family down to the Texas coast, where they face their most dangerous mission. The small Gulf town of Port Dexter is as prickly as the cactus-filled countryside. Every law enforcement officer appears to be corrupt, and an elite killer team is loose in the area. Even worse, they are all out to erase Al and his entire family.
$5.99 Read & Review Book
Colder, with Snow
by Barry Knister
Genre: Suspense / Thriller
Who is targeting Brenda's college students?
Brenda Contay used to be a local Detroit celebrity. She covered gruesome stories as WDIG's Lightning Rod tabloid reporter, but she hated the violence and sensationalism. That's why Brenda is happy to leave crime reporting to teach journalism at her alma mater, Davison Polytechnical University.
Except murder and mayhem have followed her to campus.
A Davison student is blown up while hitchhiking home for Christmas break. Three nights later, another is cut almost in half in Davison's new student center.
Brenda feels duty-bound to stay on campus, but she has promised to travel to Florida for the break. She and her boyfriend Charlie promised to help care for Brenda's nieces at Disneyworld, and Charlie is at last going to meet Brenda's difficult mother. Reluctantly, she and Charlie head south, but as Christmas arrives, more death comes to Davison.
There's only one point of connection to the murders: Brenda's bright, beautiful student, Clara Fiore.
In this dark psychological mystery, multiple points of view work to peel back the layers concealing betrayal and manipulation. Brenda Contay will need all the help she can get to save her favorite student.
But even if she succeeds, how will Clara Fiore ever be able to live with the awful truth?..
$3.99 Read & Review Book
The Fatal Couple
by Julie Bergman
Genre: Suspense / Thriller
One airman and four civilians have turned up dead. Who will be next?
Air Force Defense Investigator Sergeant Evelyn "Mac" McGregor has a reputation for catching a killer after bringing her former mentor to justice. But what if there are two?
Mac realizes the key to solving the murders may lie deep in a taboo culture that most people know little about. The bodies are discovered floating in the water and have strange wound patterns.
The Air Force tasks Mac with bringing the guilty to justice. She teams up with the FBI and local police in a multi-jurisdiction search. Before long, Mac becomes the hunted with few clues and more victims turning up dead. Will she be next?
This suspenseful thriller has everything, a taboo culture, military romance, kidnapping, and crime. The twists and turns will put you on the edge of your seat when you dive inside this non-stop thriller where Mac stops at nothing to profile and catch the killers. Click the BUY button and get your copy of this intensely fast-paced thriller today…
$2.99 Read & Review Book
My Name is Tucker Wilson
by Steven Clinton
Genre: Suspense / Thriller
Tucker Wilson does not know his birthday. He never met his parents, and has no idea where he was born. He goes by Tucker Wilson, but one of the only things he knows is that is not his real name.
His mysterious background is not half as strange as what goes on in Tucker Wilson's world. All around him, strange things happen. Wounds are miraculously healed. People are inexplicably burned. And though Tucker is aware he is the cause of these bizarre events, he has no explanation for why he can make them happen.
All of that begins to change when Tucker thwarts an attempted shooting at his middle school, setting in motion a chain of events that forces him to flee his home and leads him to a world he could never have imagined…
$9.99 Read & Review Book
Death's Angel: A Detective Al Warner Novel
by George A. Bernstein
Genre: Suspense / Thriller
A serial killer is prowling the streets of South Florida for the 2nd time in less than a year, systematically killing beautiful young women. Crack homicide detective, Al Warner, just back from injury leave, battles his own demons while chasing this clever psychopath.
Warner is physically recovered from a head wound stemming from a deadly shoot-out, but sleep in compromised by horrific post-traumatic stress nightmares.
Warner and the FBI's BAU become more frustrated as each new death provides plenty of evidence it's the same Unsub, but no new clues to his identity. They learn the killers name, Angie Dedios, and eventually realizes it's really "Angel de Dios"… the Angel of God… but they are helpless as more beauties dies with no new leads as to this deadly "angel's" real identity. Then Warner's love, Sharon Clark, becomes a target for this mad man, and Warner must stop him before she becomes his 8th victim. Only chance again brings them all together in one final deadly dance of terror…
$4.99 Read & Review Book
A Portion of Malice (Ages of Malice, Book I)
by Lloyd Jeffries
Genre: Suspense / Thriller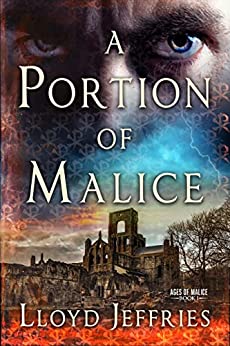 A Thought Provoking Thrill-Ride!
A brazen, edge of your seat tale of God, humanity, and the battle between good and evil.
A Portion of Malice is a fast paced, religious thriller that explores the razor's edge between sanity, lunacy, and the cost of every choice.
Pulitzer Prize-winning journalist Emery Merrick presses a pistol to his temple. Then there's a knock at the door. Billionaire Thaddeus Drake hires Emery to write his biography. But Drake has a dark secret, and Emery quickly discovers he heads an ancient, secret society which aims to fulfill prophecy and sacrifice the Earth to a bloodthirsty God. Deep and emotionally stirring, Emery finds himself plunged into an immortal world of darkness, deceit, and barbarity.
This thriller for thinkers chronicles one man's explosive journey into the apocalypse and one man's epic quest to confront God as an equal. A captivating odyssey through history and time, A Portion of Malice changes the conversation about spirituality, redemption, and the world in which we live.
If you enjoy works by Ken Follett and Dan Brown, you'll be blown away by A Portion of Malice's controversial plot and surprise twist ending. It's the first book in the epic series, Ages of Malice.
Humanity hangs by a slender thread!
Can one man make a difference?
Challenge your paradigms, buy your copy today…
$2.99 Read & Review Book
Richter's War: Case of the Ghostly Séance
by Daniel P. Douglas
Genre: Suspense / Thriller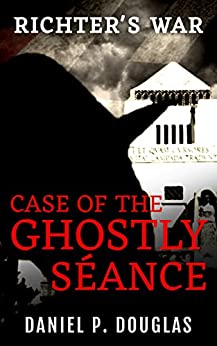 The hunt for Nazi spies just took another paranormal turn, which means hardboiled detective Geno Richter is soon entangled in wartime action, mystery, and suspense. As Geno combats a Nazi plan to harness supernatural forces, double-dealing associates complicate matters, and an evil entity lures him into a high-stakes and deeply personal war…
$2.99 Read & Review Book
Automatic Stay
by Mark Shaiken
Genre: Suspense / Thriller
Six Kansas City jazz clubs have somehow managed to survive the Covid pandemic. Now they must battle an unknown enemy who runs an anonymous disinformation campaign on social media to try to put the clubs out of business. Will they be able to stop the campaign in time to save the clubs and keep jazz alive in the city?..
$8.99 Read & Review Book
You Have The Right to Remain Silent
by Mark Bello
Genre: Suspense / Thriller
Conservative talk-show host Mia Folger is in therapy with Dr. Harold Rothenberg. Mia and her husband, progressive Congressman Bradley Crawford, are not getting along these days, personally or politically.
When Crawford is found brutally dismembered and murdered, the evidence points to Mia as his killer. While the prosecutor pushes for a murder indictment, Dr. Rothenberg, convinced of his patient's innocence, turns to an old friend—high profile attorney Zachary Blake, Detroit's self-proclaimed 'King of Justice.'
Blake will do anything for Rothenberg, the man who successfully treated his kids in their battle with a predator priest. Zack takes Mia's case, but has his work cut out for him because Mia has been hospitalized, shocked into a catatonic state at the discovery of her husband's mutilated body, unable to assist in her own defense.
Sensing he must prove Mia's innocence to avoid an eventual life sentence, Zack enlists the aid of his crack investigator, Micah Love, and Micah's cyber-specialist, Reed Spencer to dissect and poke holes in the case. But, for this case, Micah in convinced that Zack needs more—he recommends beautiful, sharp, brash, foul-mouthed, cocky-confident New York based jury consultant extraordinaire Shari Belitz and her team of mock trial/focus group gurus.
Shari is the best of the best. Her assignment in the Folger case? Flyspeck the evidence and unleash her arsenal of psychological techniques and predictive skills—use focus groups or mock juries to determine what evidence or circumstances would cause the real jury to declare Mia Folger innocent of all charges. Zack wants no part of Shari; one cocky lawyer-Zachary Blake-should be sufficient to prove Mia's case. Blake knows what he needs for an acquittal; a brash jury consultant from NYC will only get in his way. But Micah persists and persuades Zack him to give Shari and her team a try.
Zack, Micah, Reed, and the irrepressible Ms. Belitz join forces in an all-out attack on the evidence, while evil characters lurk in the background, engaged in a sinister plot to assure Mia's demise.
Expect the unexpected in this whodunit legal crime thriller, the 8th installment of the Zachary Blake Legal Thriller Series, featuring all your favorite series characters and one brash, exciting newcomer who gives Blake all he can handle…
$3.99 Read & Review Book
Take the Shot
by C. M. Conney
Genre: Suspense / Thriller
Ronny Mitland, a spotter for Navy SEAL team nine, has set his sights on Cameron Howard. And he isn't the only one. Al-Jadr, an emerging terrorist group, also want her to complete the computer programming on a surveillance device they've stolen.
Unfortunately, Ronny's wife and job are getting in the way of his pursuit. Before he can explain his friends with benefits arrangement with his wife, Cameron is kidnapped by Al-Jadr operatives.
And now Ronny has his sights set on Al-Jadr…..
$3.99 Read & Review Book
Hollow Stars
by Lauryn Dyan
Genre: Suspense / Thriller
Discover the dire side effects of partying like a rock star.
As lead singer of popular, emerging rock band, Tracing Stars, Kennedy has the swagger of a badass, or at least she used to. While caught up in the booze, passion, and chaos of her first major rock tour, her dreams are erased by a string of ever-worsening blackouts. Now, the instability of her mind has landed her in a psychiatric hospital. Despite being convinced one of her tour mates sabotaged her, she lacks any evidence. Trapped in the asylum, she alternates between the past and the present determined to recover her lost memories so she can return to her band before she's just a footnote in their rise to fame…
$2.99 Read & Review Book
Revenge on a Cruel World
by Rick Clements
Genre: Suspense / Thriller
"This high-octane thriller has more plot twists and turns than the tilt-a-whirl at the county fair." – Reedsy
Buffy VanderRye has seen the worse the world can offer. And now her team is hired by the government to plan a bank robbery. The target is a major crime cartel. The aim is to steal all of their money and put them out of business. It would be the largest heist in history, netting $147 billion. In the process of research and planning, she discovers a weak spot in the worldwide system of corruption and incompetence.
The attempt to rob several banks at the same time puts her team in great danger. The robbery does not go as planned, with unspeakable consequences and a series of betrayals…
$0.99 Read & Review Book
As Thick As Thieves, The Price of Infamy
by Kieron Holland
Genre: Suspense / Thriller
A priceless treasure is on its way to England
The dowry of an unwilling bride.
The Duke will risk war to possess it.
The church is desperate to recover it.
And every thief, crook and pagan cultist in the land wants it
For one thief, his fate, the fate of his family and everyone he knows will depend on him stealing it.
But even if he succeeds he won't be able to save them all…..
$4.99 Read & Review Book
Blown
by Nolon King
Genre: Suspense / Thriller
She can pay with her life … or she can pay with her crimes.
Alison Tanner thought she was living her best life. Her husband's seven-figure consulting business earned them entry into the country club crowd and paid for her gifted daughter's tuition at the best private school in the area. She lives in a gorgeous house, drives an expensive car, and she could afford designer clothes, if she cared about fashion at all.
But when her husband, Tom, is killed in a gang-related shooting, it all comes crashing down. Tom's consulting agency was just a front for his real business: keeping their wealthy neighbors supplied with cocaine, oxycontin, and every other illegal drug money can buy. Tom died owing the local drug lord a lot of money — and now Alison's on the hook.
Worse, unscrupulous DEA Agent Banks wants her to be his informant in a sting operation and doesn't care if she survives, as long as he gets his man.
Desperate to protect her daughter from both a vengeful mother-in-law who wants custody and a drug lord who wants her daughter to work off Tom's debts in the streets, Alison agrees to go undercover, wearing a wire as she sells drugs to her snobby neighbors and learns more about the drug lord's operation.
If she ever gets out of this, she vows she'll take her daughter and disappear forever — but her chances of surviving are getting worse by the minute. Does she have a shot at ever living a normal life again, or is everything blown?
Blown is an intense new stand-alone crime thriller from Nolon King, author of Pretty Killer, 12, and the No Justice series. Fans of Ozark and Weeds will love Blown. Get your copy today…
$4.99 Read & Review Book