Read these books for FREE while everyone else has to pay for them!
Alethea
by S.L. Mason
Genre: Science Fiction
"We are not Gods. No matter what Zeus thinks."
Herathina Log Entry ATD 1,784,652.51 Terra
The study of evolution had come to a standstill when we discovered Terra. It was the perfect incubator for a Millennial Project. But from the beginning, everything has gone wrong. Our mandate said limited contact, not domination but Poseidon is too blinded by his lust for that human to listen.
Sydney present day
I don't know what I am. My dreams are filled with an island of blue and a woman's indiscernible pleas. On the back of the dreams comes abilities. Abilities I'm desperate to hide. But it's the voice in my mind that terrifies me the most. Is it real or have I cracked? Can you live a normal life if you aren't? I can't run from the truth or from myself, because the dreams are driving me to find answers. Where is the island? Who is the voice in my mind, what does the woman want, and how do I hide the truth and still appear normal on the outside?
Truth always comes with trauma.
Sydney and Herathina, two women whose seemingly unrelated lives come together over a millennium to change the fate of the universe. Nothing has prepared you for the culminating clash between Gods and Titans that has raged from the dawn of time, just out of human sight. Perfect for lovers of Greek gods, genesis and space opera stories.
Take a thrilling ride into a world where Greek Gods are not only real, they are still here pulling strings. If you like American Gods, Indiana Jones, Clash of the Titans, Dan Brown, and the Expanse, you'll love Killing Gods.
$0.99 Read & Review Book
The Outlaw Gillis Kerg … Physics, Lust and Greed Series, Book 4
by Mike Murphey
Genre: Science Fiction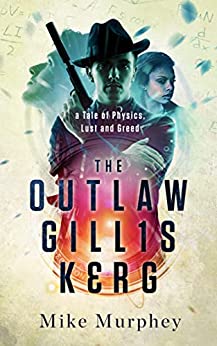 In the mid-21st Century, a top-secret consortium of corporations and governments have made time travel possible, only to realize that intruding on the past has been a terrible mistake.
At the program's outset, a thousand scientists, engineers and support staff were confined to a subterranean complex where a corporate contributor specializing in artificial intelligence equipped apartments with Happy Home Companion software.
Time traveler Marta Hamilton had little enough tolerance for other people intruding in her life, much less a software Dear Abby, so Marta bullies her Happy Home Companion into silence.
At last convinced of the grave dangers time travel represents, government overseers suspend operations. Only the Happy Home Companions remain.
Marta and fellow traveler Marshall Grissom hope they can finally leave the past behind, but when a federal judge is murdered, they understand their vulnerability to horrible manipulations by future counterparts.
Marta and Marshall return to the Arizona desert where they confront a Happy Home Companion cult of vengeance, the outlaw Gillis Kerg, and an evangelical zealot waging a war on science…
$4.99 Read & Review Book
Kiya and the Morian Treasure
by R.S. Mellette
Genre: Science Fiction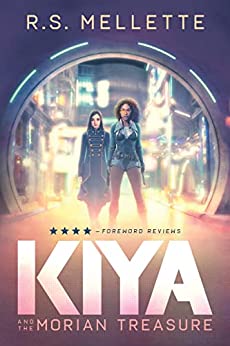 How do you fight a myth? … You create another one.
Kiya is a former space pirate with a fast ship trying to make a legit living when she accepts a commission from diplomat Janus Alotus. He's got a price on his head and space plague wracking his body. Kiya's task: Use her unique skills to bring Janus's daughter, Nadir, home safely so he can sacrifice himself to Admiral Ghan, ruler of the Pirate Council. Janus's public execution will be a last, desperate, attempt to bring peace to the galaxy, even if it takes a war to accomplish it.
Great plan, until Kiya's ship is attacked by fellow pirate and ex, Derek, who's looking to collect the bounty on Janus for himself. With Janus captured, Nadir and Kiya are left to fend for themselves while Kiya seeks to recover the memories erased by her father — which she's convinced hold the key to finding the mysterious Morian Treasure.
The two young women must resist multiple attacks, reclaim Kiya's lost memories, and survive Ticking in space and time in a journey through the galaxy the likes of which have never been seen before…
$5.99 Read & Review Book
Burnout
by Sean Platt
Genre: Science Fiction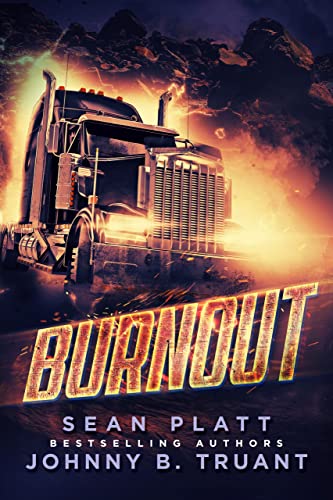 Cutter Dunn was born a ghost.
Unchipped and unregistered, he exists as a nonperson, living off-the-grid, unrecognized by the facial recognition software built into every smart glass device that provides everyone with everything they want and need. According to the official system, he doesn't even exist.
He has the skills and out-of-the-box perspective to design the nuts-and-bolts mechanism for the next generation of driverless shipping vehicles. He's also the kind of person that a massively wealthy and corrupt corporation can exploit and make disappear without a trace. For good measure, they also erased his home settlement of Amenity, bulldozing the dwellings, scattering the residents. And that was their big mistake.
Because Cutter knows they can't track what they can't trace. And they won't know what he's planning until it hits them.
Burnout is a new stand-alone science fiction thriller by masters of storytelling, Sean Platt and Johnny B. Truant. If you like movies like Falling Down and Snatch, then you'll love Burnout…
$4.99 Read & Review Book
Analog Heart
by Avery Blake
Genre: Science Fiction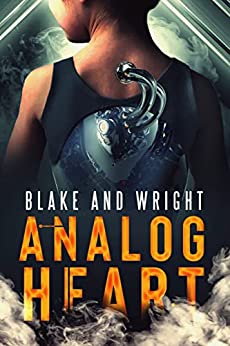 Cascade Labs said it was impossible for a robot to harm a human – it violates the code. But the murders of Bronson Dodge's wife and daughter proved otherwise. To keep him close and quiet, Cascade Labs gave Bronson a lucrative job that channeled his need for revenge into hunting down robots who've evolved beyond their programming.
So heavily augmented that he's practically a robot himself, Bronson hunted robots for Cascade until he retired. His nanite augmentations are now coming to the end of their life cycle and Bronson's days are numbered.
But when Cascade engineer Isla Bligh comes to him for help, he decides to take on one last mission that goes against everything he believes: protecting a robot who shouldn't exist from Cascade's next generation of hunters.
Ava is a new kind of synthetic human, appearing to be a flesh and blood in every way, but she represents the next step in human-robot evolution. Bronson would've gleefully hunted her down himself … before his retirement.
Too bad he's desperate for money – not to prolong his own pointless life, but to make amends ahead of his death.
Can Bronson overcome his own prejudices and smuggle Ava to safety under the noses of Cascade's best hunters?..
$0.99 Read & Review Book
ARKO: The Dark Union (A Sci-fi Adventure Series)
by U.W. Leo
Genre: Science Fiction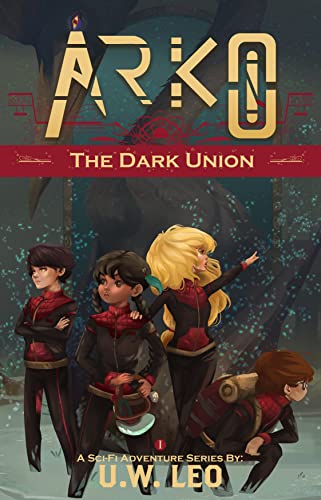 A group of tweens unearth the most significant discovery in world history, designed to save the human species…from itself.
Ariel Hyden and his friends accompany their parents, some of the world's top scientists, on a trip to the Yucatán where Dr. Hyden is conducting research for the Mexican government. On the kids' exploration of nearby old Mayan grounds, they discover an impossibly advanced structure hidden for millions of years in the bowels of the earth that is responsible for the past—and future—of the world as we know it.
A perilous mission has the children and the scientists racing to find answers to the purpose of their incredible discovery and who created it. With federal officers, armed soldiers, and nefarious individuals in hot pursuit, the group must be successful—the fate of the world is counting on them.
With thought-transmitting abilities, an ancient entity buried for millions of years, hatching flying pterosaurs, and futuristic technology, ARKO: The Dark Union is a thought-provoking and realistic story steeped in scientific facts, speculating on humanity's ecological destruction and its survival…
$2.99 Read & Review Book
Syndicate of Earth
by Kevin Do
Genre: Science Fiction
Merit Cloud doesn't believe in giving criminals second chances.
He believes in wiping them out and making the world a better place. His position as a SWAT operative certainly makes that easy for him, especially in 2060 Detroit. Drug dealers, gangsters, weapon smugglers, Merit has seen it all—until he encounters Phantom, a violent super soldier.
The brutal encounter leaves Merit mutilated and several of his fellow squadmates dead. He swears vengeance will be his.
But this encounter wasn't an isolated incident.
Reports of missing individuals pop up across the globe, all connected to Phantom and the Syndicate of Earth. Merit's investigation pushes him to the breaking point. The SOE has grand plans for its organization and the world, using Merit as an unwitting pawn…
Perfect for readers who love super soldiers from Halo and Warhammer 40,000, excessive violence and gore, and near-future settings…
$3.99 Read & Review Book
The Price of Safety
by Michael Bland
Genre: Science Fiction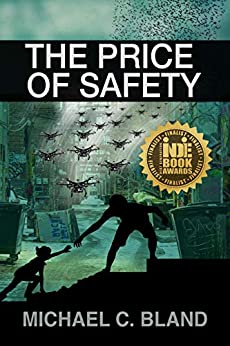 When Dray Quintero learns his nineteen-year-old daughter Raven committed a heinous act, he covers it up to save her life. This pits him against the police he's respected since he was a child and places him in the crosshairs of Kieran, a ruthless federal Agent. To survive, Dray must overcome the surveillance system he helped build and the technology implanted in people's heads Hunted and betrayed, with time running out, Dray must choose between saving Raven and dismantling the near-perfect society he helped create…
$4.99 Read & Review Book